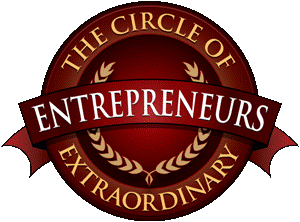 Join us for an
Intimate
 Explosive ~ Powerful & Imaginative
Exclusive 2
 Day Event 2015!
Location TBD
The Circle of Extraordinary Entrepreneur's

If you want to go far, walk together ~African Proverb

Imagine you are a Thriving Business and able to give back to your community. You and your Family are finally living the life you have always dreamed of! Your financial freedom day has arrived!
Are you ready to become Extraordinary with Extraordinary People?
What do you want right now?
* Immediate Increase in Cash Flow? * More Funding? * Better Teams? * Launch a new product? * License or Franchise your Company? * Expand your business regionally, nationally or globally or just get started? * Create sustainable revenue for your Non-Profit? * Are you a Philanthropist at heart and want to know how or where to take the next step?
We are taking reservations for March 2015 Only 25 Seats are Available!

Couples are Highly Encouraged to attend
What are you waiting for? Call us today for an initial consultation to determine if the Circle is right for you and you are ready for the Circle! Complete the contact us form and put put Circle Info in the notes and we will contact you with more information! How can The Circle of Extraordinary Entrepreneur's help me?
The Circle of Extraordinary Entrepreneurs is a powerful, fun and relevant interactive and intimate experience designed around an atmosphere of integrity and confidentiality. Work with top business leaders and visionaries who will lead and guide you as you establish the course for your life and business! Begin to actually see how and when you can realize your goals and dreams and know the date you will begin to experience your financial freedom day!

We make certain your core values are aligned with your passion and purpose while determining the correct course of action in your life and business.

We will guide you while you design a road map for your financial freedom day and determine what that looks like to you and your family! You will have a step by step action plan to follow throughout the year along with concerned and caring experts who have been right where you are and can guide you with integrity and confidence.

Evaluate your current revenue model to determine whether to change it or add other income streams to reach your established financial goals.

You will also discover how to hire or build better teams and provide customer service that will keep your customers raving about you and attracting more! Discover how to build your word of mouth marketing so that you spend less on advertising.

You will also learn how to turn your excess resources and inventory into cash!!
What Does The Circle Event Include?
Exclusive Networking Reception the night before the event

2 Day in-person interactive sessions 

Led by Industry Experts and IBAL Certified Advisors

The opportunity to participate in Think Tank groups comprised of peers to support your success and keep you on track throughout the year.

Customized Personal Strategy Coaching session with one of our Executive Coaches chosen to match you with your personal goals and business objectives

Personalized 1 on 1 Business Introductions & Matching throughout the year

Bi-Weekly Team calls to keep you accountable and on track with your team after the event

Optional Participation to experience an actual IBAL Think Tank  breakfast session to learn more about ongoing opportunities within the organization.
Circle Membership: Resources and Support
Customized Tracking & Support Systems

Live Calls with Top Level Experts, Authors and Financial Advisors

Accountability Calls with your personal Team Leaders

Flash Business Makeover Sessions with Financial and Business Experts

Simple Networking Courses and Tele-Classes designed to target your specific needs

Participate in Select Leadership Training Opportunities and generous revenue sharing programs
Contact us for Your Free Consultation Now!
*Accommodations, Breakfast & Reception is included in this program